ISH April 2023 e-Bulletin
Back
NEWS DETAIL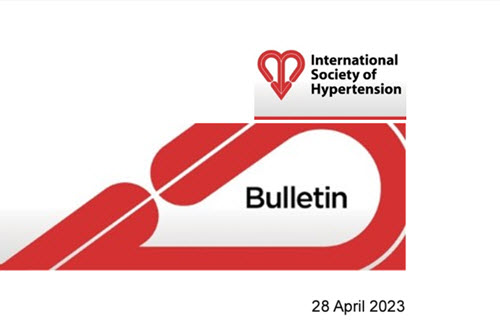 Introduction from the ISH Secretary
Welcome to the April issue of the ISH e-Bulletin!
As I write this, we are just a few days from entering May, the month of "Hypertension"! This is our opportunity to go out into our communities and spread the message of hypertension awareness and control. World Hypertension Day, organised by the World Hypertension League, is celebrated annually on the 17th of May, and May Measure Month (MMM), initiated by the ISH, highlight every year the importance of blood pressure screening by measuring millions of people worldwide. Make sure this May you contribute to informing and measuring as many people as possible!
These days there is a lot of activity on novel technologies for hypertension management. See in the bulletin details of a recent two-day virtual workshop by the US National Heart, Lung, and Blood Institute on "Transforming Hypertension Diagnosis and Management in the Era of Artificial Intelligence", which brought together health care researchers in hypertension along with data scientists, engineers, and implementation scientists. The aim was to explore data integration strategies, novel technologies, and innovative analytical methods, with the goal of finding ways to improve hypertension detection, monitoring, and management. It was a very challenging workshop, particularly because experts from very diverse sciences participated, which was nicely highlighted in a lecture by Zachi Attia entitled "Engineers are from Mars and Clinicians are from Venus". I contributed with a talk on "Blood pressure measurement using novel technologies via artificial intelligence", which is an emerging topic and very attractive to all of us and our patients. The workshop has been recorded and is open to the public via NIH videocast.
On May 3rd-5th you may be interested to attend the "Cardiovascular Health Tech Virtual Conference 2023" by IEEE EMBS, which is the world's largest international society of biomedical engineers. It will deal with recent advances and opportunities in wearables, "nearables", and machine learning in hypertension and cardiovascular disease, including cuffless blood pressure measurement, congestive heart failure monitoring, and the future of cardiovascular health tech. The session chairs and speakers are top academic researchers, directors in government agencies, founders of new companies, and clinical opinion leaders. My task is to present the "Clinicians' view on validation standards", aiming at explaining our needs in making treatment decisions for clinical practice.
New 2023 ESH Guidelines will be presented during the 32nd ESH meeting in Milan in June! Take note and make sure you attend! This meeting will be in hybrid format so will be accessible worldwide. Also, see announcements about the Asian-Pacific Congress of Hypertension, meetings by the British & Irish, the Iraqi, and the Malaysian Hypertension Societies, and other educational activities such as the "On Air Youth Academic Salon" in China, and the Omron Academy endorsed by the ISH.
Also see messages by the ISH Mentorship and Training Committee (MTC), the ISH New Investigator Committee (NIC), and the ISH Women in Hypertension Research Committee (WiHRC), which work together to support our young colleagues in developing their professional career.
And you can watch the video about our next ISH meeting in Cartagena in September 2024. We plan to host a great scientific meeting in a wonderful destination!
Last, do not miss the new issue of the ISH Hypertension News which is coming soon!
Enjoy reading!
Professor George Stergiou, ISH Secretary
Athens, Greece
ISH April 2023 E-Bulletin View in Browser
Download ISH April 2023 E-Bulletin.pdf
The Benefits of Joining INASH
Join inash to receive the latest hypertension news, featured in our publications. open to all current health care professionals and every member of the community.